President of South Korea, Moon Jae-in, and President of North Korea, Kim Jong Un, held yesterday a not announced meeting at Tongilgak, Panmunjeom.
There they discussed on how to make the US- North Korea meeting initially to be held on 12th June in Singapore come true, after President Trump decided to cancel it.
Today, President Moon held a press briefing at Cheong Wa Dae to personally announce the outcome of this second inter-Korean summit, that he explained "was held like a routine meeting between friends. We agreed to communicate and to sit together to have candid discussions whenever necessary."
Meeting with Trump
After recent declarations by Kim Jong Un against the USA, Trump canceled the meeting that was to be held next 12th June in Singapore.
Here the tweets and the decalaration published by the US President on Twitter.
Moon Jae-in said on this point this morning , "I delivered to Kim the message of President Trump that he has a firm resolve to put an end to hostility toward North Korea and to work on economic cooperation with the North if Chairman Kim decides decisively to put complete denuclearization into action. In particular, since both Chairman Kim and President Trump are sincerely hoping for the success of their summit, I emphasized that it is necessary for the two sides to engage in direct talks to eliminate misunderstandings and have sufficient preliminary, working-level negotiations concerning the agenda that needs to be agreed upon at the summit."
Here the tweet published by President Trump resuming the North Korean summit issue on 24th May
"I believe that a summit, as well as working-level talks, between the two countries will work out well, as both sides clearly recognize what they want from each side", said Moon Jae-in this morning, and continued: "Chairman Kim made clear once again his intentions to completely denuclearize the Korean Peninsula, as he did in the Panmunjeom Declaration. He expressed his willingness to work together to promote peace and prosperity as well as to put an end to the history of war and confrontation through the success of a North Korea-United States summit,"
"Sharing the common understanding that the June 12 North Korea-U.S. summit should be held in a successful manner and that our journey toward denuclearization and the establishment of a permanent peace on the Korean Peninsula must not stop under any circumstances, we two leaders agreed to closely work together toward these ends," he added.
Executing Panmunjeom Declaration
North and South Korea Presidents shared their ideas on how to advance in what they agreed under the Panmunjeom Declaration on April 27th.
As reported by Moon Jae-in both agreed on the need to accelerate the implementation of the Panmunjeom Declaration.
To this end, both sides fixed the date for inter-Korean high-level talks on June 1st. Tis meeting will be followed by talks between military authorities to ease tensions and Red Cross talks for the reunion of separated families.
Moon made clear that implementation of Panmunjeom joint declaration and the path towards the denuclearization of the Korean Peninsula must continue both with or without meeting between Kim and Trump.
Kim took first action towards denuclearization last 24th May
Kim Jong Un's Government invited 30 reporters from five countries (South Korea, the U.S., the U.K., China and Russia) to Punggye-ri on May 24th to witness the demolition of the nuclear test site located there. According to the press observers, the detonation started at 11 a.m. then lasting 5 hours and 17 minutes.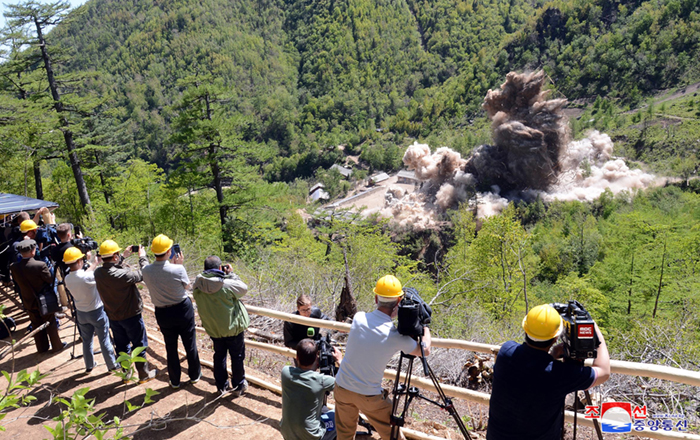 The Government of North Korea assures that tunnels 2, 3 and 4, the headquarters building, observatories, residences and military buildings that belonged to the site.
Tunnel No. 1 is supposedly closed after the first nuclear test in October 2006.
Image over the headline.- ROK President, Moon Jae-in and and North Korean President Kim Jong Un meet at Tongilgak, Panmunjeom on 26th May. Image © Cheon Wa Dae.
Related Eastwind links:
Norht Korea agrees on closing nuclear test site next May
South and North Korea, to hold peace summit next April
Both Koreas, under one joint Olympic flag while regional disputes still pending